Siwa Rustic Serving Bowl- Set of 3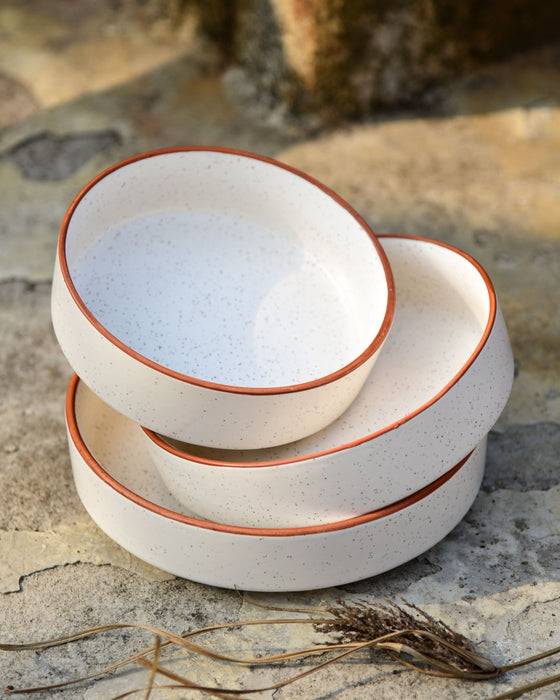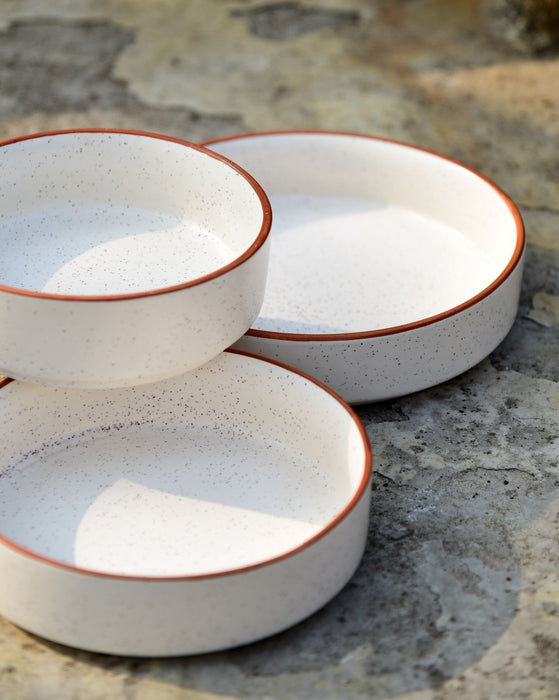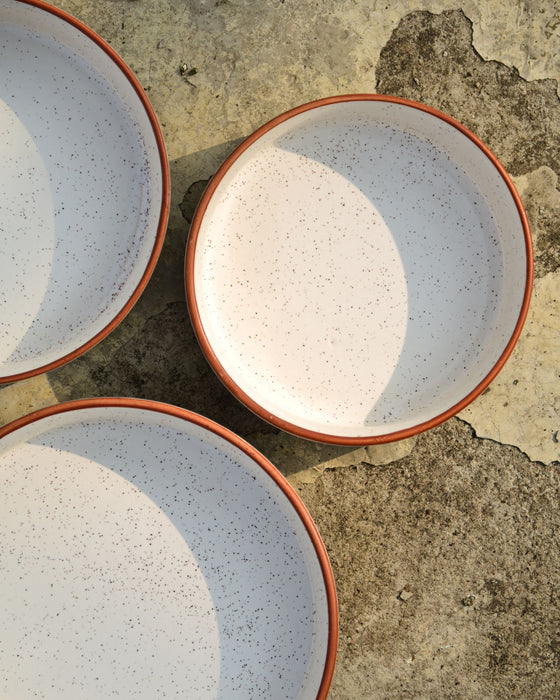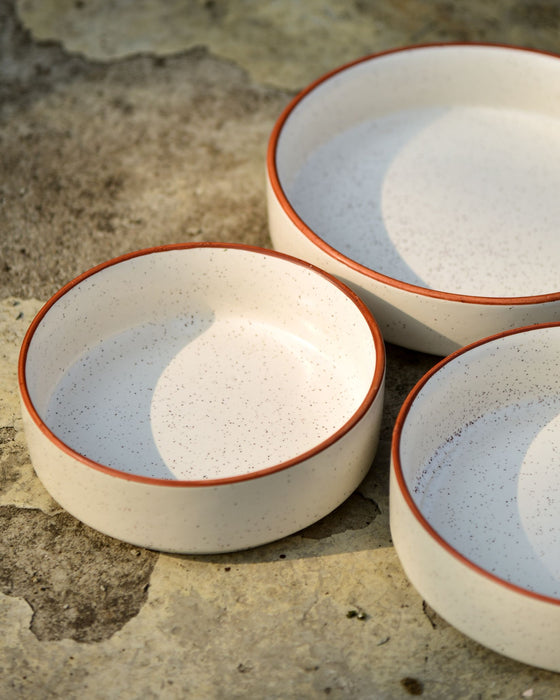 Styled in minimal design, adorned brown rim, handcrafted by the local artisans, this gorgeous looking bowl set is suitable for enjoying salads and serving curries. Painted in white all around, this plate is apt for family dinners or gatherings. Handcrafted with precision, this beautiful bowl set has a unique design  and comes in three different sizes makes  it perfect for serving  variety of food items. With a sleek and minimalist design, it will add a touch of sophistication to your table setting. Upgrade your dinnerware collection with this durable and stylish bowl.

Each piece is lovingly nurtured and prepared in small batches to ensure a high-quality finished product. 
PRODUCT TYPE : Serving Bowls ( Set of 3 ) 
MATERIAL : Stoneware
COLOR: Dull white and Brown
MEASUREMENTS : Small : 6 inches , Medium : 6.5 inches , Large : 8 inches 
CRAFT : The process includes rolling the clay into a slab before it is cut and moulded into the desired shape and customised with the desired decoration. The moulded pieces are then bisque fired and undergo sanding and washing, before they are glazed and fired again at more than 1200 degrees celsius. A second sand and wash process smoothens the base and the final products are ready to find a new home.

PRODUCT CARE: Microwave Safe.  Dishwasher safe but hand wash recommended 
SPECIAL ATTENTION : This piece is crafted by hand; there may be slight variations in colour, pattern and size. Cherish it for its individuality, as no two pieces are completely alike.
SHIPPING AND RETURNS  :  Dispatched in a maximum of 7-10 business days. Please note that we aim to dispatch all 7 working days, however this may be slightly longer during particularly busy periods. Please be assured our customer service department will keep you updated at all times on the progress of your order. You will receive an email notification once your order has been dispatched.
RETURNS: All our Home category products are not eligible for any refund/return/exchange unless you have received it in a poor/damaged condition.

We always use plastic free packaging to wrap and send your orders. We occasionally use recycled bubble wrap or plastic sheeting when necessary