Vintage Rattan Cane Mirror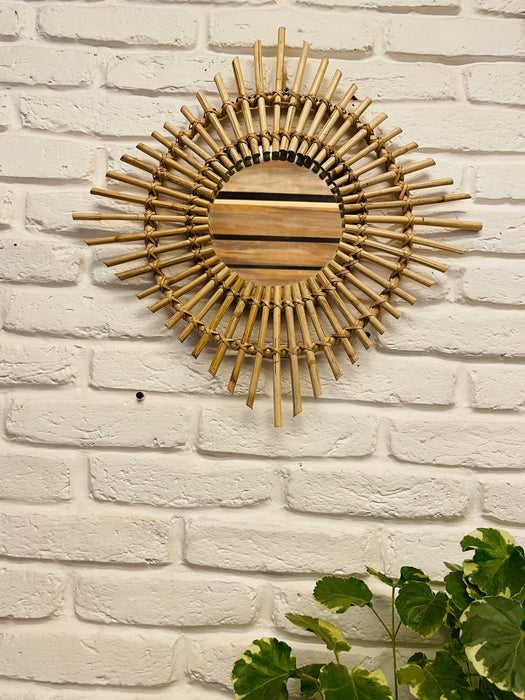 This Cane Rattan Bohemian shaped Mirror wall decor which creates a geometric modern bohemian effect to any room This beautiful mirror would look great in any room of the home such as the living room, bathroom, reception area, meditation room or bedroom. It is incredibly versatile and the beautiful design and finish truly lights up any room. This Boho mirror is also very lightweight and easy to hang . 
PRODUCT TYPE : Mirror ( Square )
MATERIAL : Cane 
COLOR : Natural  
MEASUREMENTS : Length : 14 inches ,  Breadth - 14 inches  , Mirror Area - 8 Inches 
CRAFT : Cane products are handmade by talented artisans of Assam and are all-natural, handcrafted & Environment Friendly.  
ORIGIN: Assam , India 
PRODUCT CARE : Keep dry. Spot clean only with a soft, white cloth. Use a soft bristle brush to clean dirt accumulated between the weave. Dry in sunshine only if required.
SPECIAL ATTENTION : This piece is crafted by hand; slight variations may be in colour, pattern, and size. Cherish it for its individuality, as no two pieces are completely alike.
SHIPPING AND RETURNS  :  Dispatched in a maximum of 7-10 business days. Please note that we aim to dispatch all 7 working days, however, this may be slightly longer during particularly busy periods. Please be assured our customer service department will keep you updated at all times on the progress of your order. You will receive an email notification once your order has been dispatched.
RETURNS: All our Home category products are not eligible for any refund/return/exchange unless you have received it in a poor/damaged condition.
We always use plastic-free packaging to wrap and send your orders. We occasionally use recycled bubble wrap or plastic sheeting when necessary.