Pure Walnut Wood Hand Carved Serving Bowl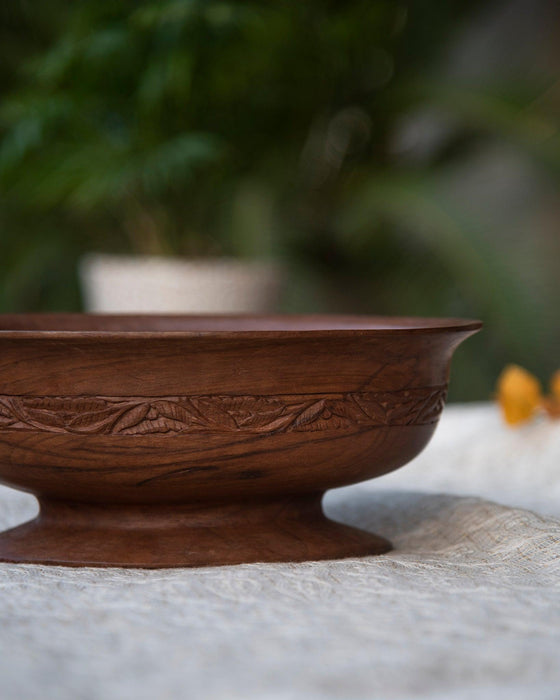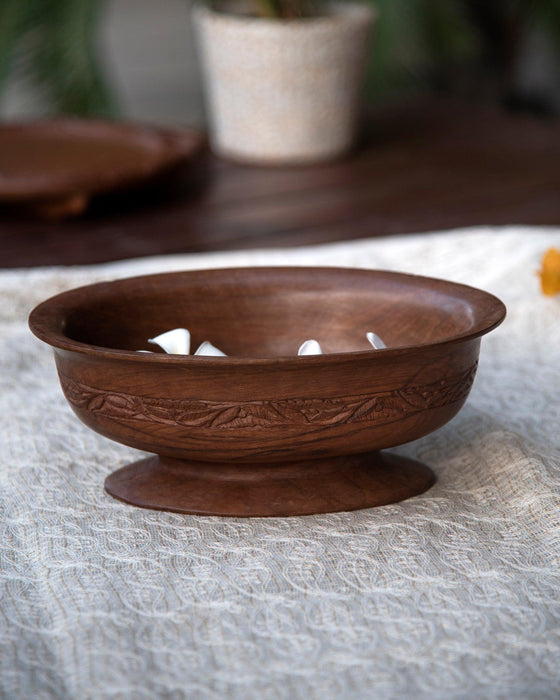 This gorgeous hand carved walnut wood serving bowl is a unique and a  perfect accent for serving desserts , dry snacks , rich dishes  and actually anything and everything . It has a beautiful floral carving on the sides , brings the royal touch to your table . This piece is hand carved by the finest artisans of Kashmir.
PRODUCT TYPE –  Serveware / Bowl

MATERIAL – Walnut Wood 
COLOR - Wood Brown 
MEASUREMENTS  - Length : 10 inches , Height : 3 inches 
ORIGIN - Kashmir , India 
PRODUCT CARE - Hand wash gently with soap and water. Dry with a soft cloth.
You can lubricate it periodically if desired by rubbing mineral oil, coconut oil, olive oil, or other food-safe oil onto the grain. Do not go through the dishwasher.
SPECIAL ATTENTION - This piece is crafted by hand; slight variations may be in colour, pattern, and size. Cherish it for its individuality, as no two pieces are completely alike.
SHIPPING AND RETURNS  -  Dispatched in a maximum of 7-10 business days. Please note that we aim to dispatch all 7 working days, however, this may be slightly longer during particularly busy periods. Please be assured our customer service department will keep you updated at all times on the progress of your order. You will receive an email notification once your order has been dispatched.
RETURNS: All our Home category products are not eligible for any refund/return/exchange unless you have received them in a poor/damaged condition.

We always use plastic-free packaging to wrap and send your orders. We occasionally use recycled bubble wrap or plastic sheeting when necessary