Parna Turquoise Blue Green Plate Set - Set of 6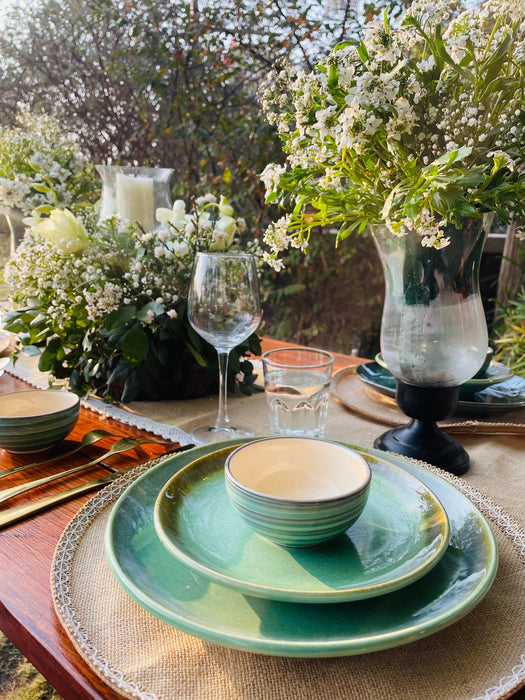 These Turquoise Blue with a shade of Green plate set will enhance the beauty of your dining setup. The uneven textures and neat stripe design on the bowl adds a retro feel to the set. This set makes your dining set up look royal with a touch of rustic feel. Dress it up with neutral colour tableware like jute runner and beige hand napkins .
This Set includes : 6 Full Plates , 6 Quarter Plates , 6 Bowls.


ABOUT THE COLLECTION : Bringing the outdoor in with our new ceramic collection " Parna " inspired by lush greens which soothes every mind and soul. " Parna " refers to a leaf and our collection takes cue from different shapes and sizes of leaves , beautifully engraved in nature inspired motives in each piece .

Handmade with natural ingredients , the colour of the collection is inspired by rich flora of India in shades of the earth and forest . Deep greens , Turquoise Blue , Olive Green , Petal Green makes it timeless and a perfect fit in every dining set up .

Each piece is lovingly nurtured and prepared in small batches to ensure a high-quality finished product.

PRODUCT TYPE : Plate and Bowl

MATERIAL : Stoneware

COLOR: Green

MEASUREMENTS: Plate -10 inches , Quarter Plate - 8 Inches , Bowl - 4 Inches

CRAFT : The process includes rolling the clay into a slab before it is cut and moulded into the desired shape and customised with the desired decoration. The moulded pieces are then bisque fired and undergo sanding and washing, before they are glazed and fired again at more than 1200 degrees celsius. A second sand and wash process smoothens the base and the final products are ready to find a new home.

PRODUCT CARE: Dishwasher safe but hand wash recommended

SPECIAL ATTENTION : This piece is crafted by hand; there may be slight variations in colour, pattern and size. Cherish it for its individuality, as no two pieces are completely alike.

SHIPPING AND RETURNS : Dispatched in a maximum of 7-10 business days. Please note that we aim to dispatch all 7 working days, however this may be slightly longer during particularly busy periods. Please be assured our customer service department will keep you updated at all times on the progress of your order. You will receive an email notification once your order has been dispatched.

RETURNS: All our Home category products are not eligible for any refund/return/exchange unless you have received it in a poor/damaged condition.

We always use plastic free packaging to wrap and send your orders. We occasionally use recycled bubble wrap or plastic sheeting when necessary